Nelson's new Compost Courier
26/08/2020 3:01am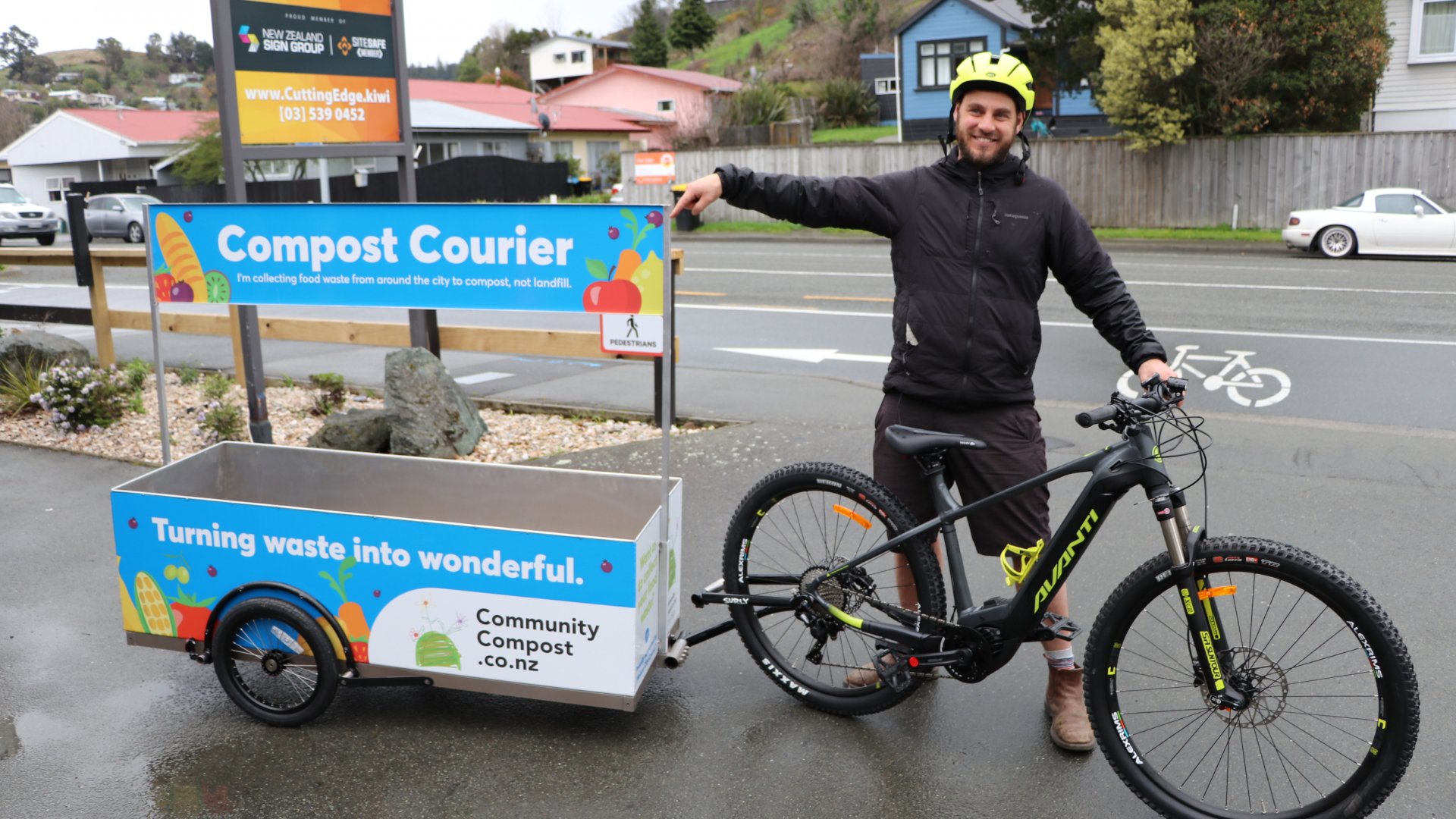 Nelson business Community Compost will soon be cycling around Nelson's CBD on a brand new e-bike and food waste trailer thanks to support from Nelson City Council.
Purchased with $9000 approved from the Climate Reserve Fund, the e-bike and trailer have been loaned to Community Compost to make the existing service more carbon neutral by using a low emission collection method and demonstrate Council's support for composting.
Helping to reduce the amount of food waste that ends up in landfill is one of the key ways that Council can reduce greenhouse gas emissions from our region. 
Our Nelson met up with Community Compost's Ben Bushell when he picked up his e-bike and trailer to ask him about the project.
Our Nelson: What got you started in composting?
Ben Bushell: I've always loved composting and realised food waste was an issue. I moved to Nelson and it felt like home, and that I was ready to give something back. Food waste and composting was something I had always done – so I just got started and then momentum grew.
ON: What businesses will benefit from your service?
BB: I can collect any food waste from businesses and offices in the Nelson CBD. A greengrocers or catering for instance, or even just small offices with communal kitchens.
ON: What sort of feedback have you had so far?
BB: Once people start this service they never leave, unless they start their own system, which we also facilitate. If we're not collecting from compost-conscious people we are supporting them somehow.
ON: Do you have a message for Nelson's businesses?
BB: Public awareness in this space is very high, businesses know that their customers care about what they are doing for the environment. Send a message to your customers that you care, and that you are doing your bit. 
I'd also like to acknowledge the effort and long term support I received from Nelson City Council and local organisations and businesses such as Nelson Environment Centre, as well as the expertise from the Bike Station, CFW Metal and Cutting Edge which went into creating the Compost Courier.