A Pop-Up Library close to home: Elma Turner Library to partially reopen following urgent work on ceiling tiles
15/07/2022 2:42pm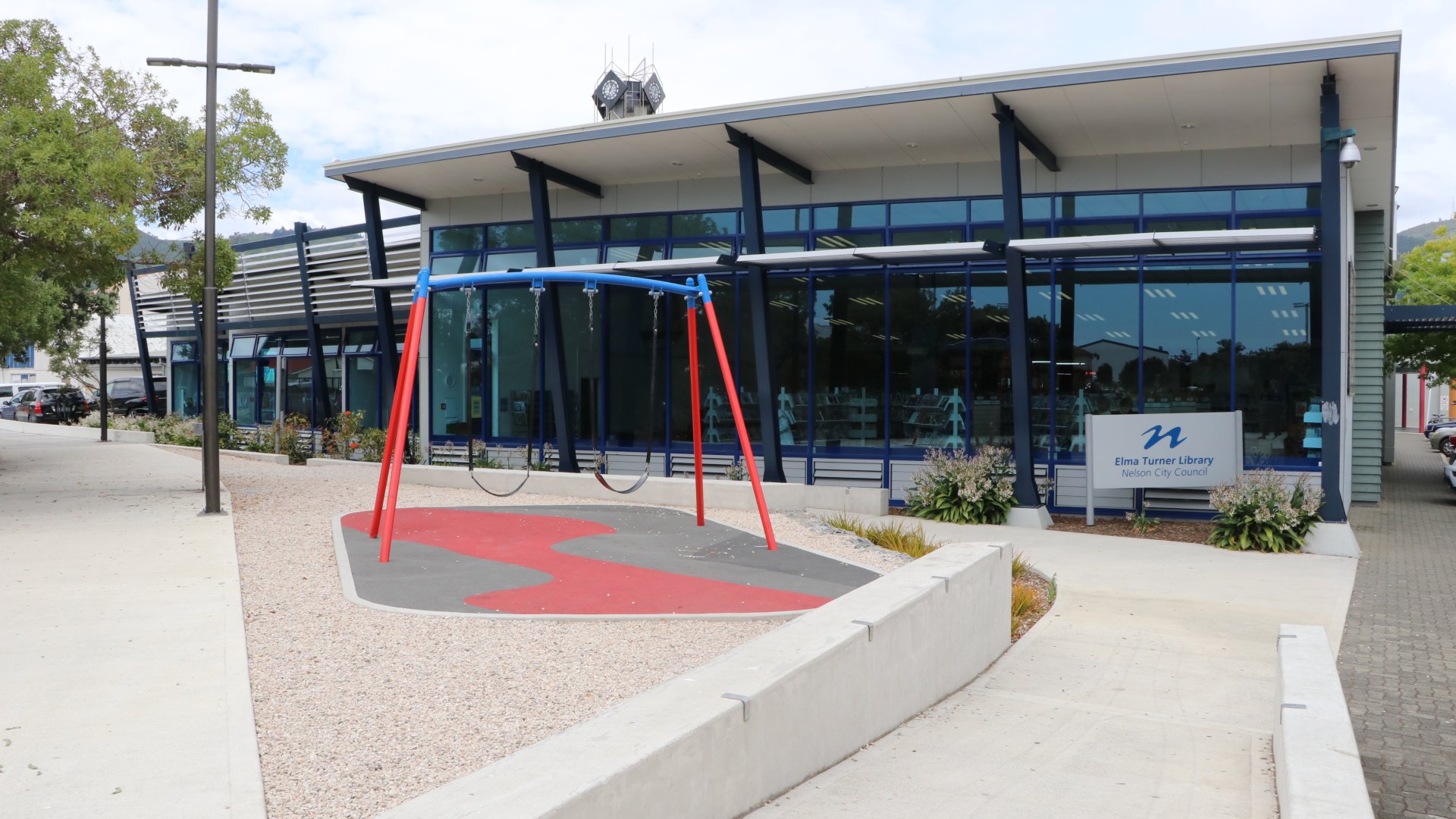 Nelson City Council plans to reopen part of Elma Turner Library on Monday 25 July 2022, provided work is completed on the building's heavy ceiling tiles to reduce the risk posed in a moderate earthquake.
Council closed the Elma Turner Library on Thursday 9 June, after an initial inspection found ceiling tiles in the building were much heavier (8kg – 11kg) than expected. Ceiling tiles weighing more than 7.5kg are deemed 'heavy tiles' and are considered to pose an earthquake risk if not properly restrained.
A limited scope Detailed Seismic Assessment (DSA) has now been completed for Elma Turner Library and it shows that as well as heavy ceiling tiles being widespread throughout the building, the ceiling grid itself in parts of the building is under 34% NBS (New Building Standard).
Under the DSA, each ceiling has been categorised into one of three risk categories – highest risk, medium risk or lowest risk. The categorisation is based on several factors, including the % NBS rating of the ceiling grid; the bracing and connections of the grid; tile weight; how securely the tiles are fixed in the ceiling grid; and what furniture is available to provide protection in the area.
Here is what the three risk categories mean:
Highest risk 
The ceiling grid has an assessed earthquake score of less than 34% NBS and
The ceiling grid has heavy tiles that are unrestrained and
The area is unfurnished.
The majority of Elma Turner Library's public areas fall under this category – including the Children's area, the issuing area, the Maitai river and Halifax sides of the Library, and the Research Room.
Medium risk
These areas either have some furniture present that is considered to mitigate risk or the ceiling grid has a score of more than 34% NBS or the ceiling tiles are restrained.
For Elma Turner Library, most areas for staff fall into this category, as do the Computer Room, Activity Room and the Foyer.
Lowest risk
The ceiling grid has a score of more than 34% NBS and 
Tiles are restrained or lightweight.
For Elma Turner Library this is the entrance hallway, the exit route from the staff area and parts of the building with GIB ceilings. Areas with low occupancy like service or storage rooms are also considered the lowest risk.
Nelson City Council Chief Executive Pat Dougherty says the DSA shows it was the right call to close the Library while Council learnt more.
"We had information about the weight of the tiles, but we didn't know enough about the grid those tiles sat in and what that meant in terms of the NBS rating. This report makes it clear that parts of the Library don't meet the 34% NBS threshold and because of the weight of the tiles and lack of furniture (to provide cover in an earthquake) in a building like this, the risk is higher than we are comfortable with.
"In the current framework, earthquake-prone buildings normally have a timeframe of 25 years to remedy issues. We are committed to addressing these issues much sooner than that, because we want to give our community, especially vulnerable users, reassurance that the building is safe."
What now?
The next step will be to undertake strengthening work in stages that will add bracing to the ceiling grids to improve the % NBS score (to at least 34% NBS) and strengthen or replace the edge fixings around the perimeter of the ceilings to improve gravity and seismic support. We will also be installing hold-down clips to restrain all tiles.
The first areas for this strengthening are the Children's area and the Activity Room. Construction on these two areas to bring them up to 67% NBS began on Thursday 14 July and will continue over the weekend.
The Pop-Up Library
Once work on the first areas is complete, staff will begin preparations to open a Pop-Up in this space. At this stage, if the work progresses as planned, then we expect the Pop-Up to open to the public on Monday 25 July. This will operate under normal business hours for Elma Turner Library, including weekends.
The Kiosk Collection Centre currently running out of the Customer Service Centre will close slightly early, at 4pm on Friday 22 July to allow library staff sufficient time to move reserves and shelves back to the Pop-Up.
Opening this area will allow Elma Turner Library to return to offering a physical space for the community while the rest of the building is assessed with a view to bracing and clipping work taking place over the coming weeks.  
Community and Recreation Chair Tim Skinner says Council has worked fast to get part of the Elma Turner Library open as quickly as possible.
"We know that the Library is as much about the communal nature of the space as it is about access to books. This is a vital place for our community to gather, and the closure was sorely felt by many in Nelson who rely on Elma Turner Library for social interaction as well as services like access to computers and books."
Libraries Team Leader Nicola Harwood says the great thing about being able to open a Pop-Up within the existing Library is that it is a familiar space for customers; minimal movement of books is required; and there is already a good IT system set-up for use by the community.
"We've estimated it will only take us three days to move in a selection of our collection and other services like computers and reconfigure the space so it can work for the whole community while the rest of the building is worked on. If we had to move to another space, that process could have taken a lot longer and would have been more costly to achieve.
"Library staff have really missed those daily interactions with the public, and we are really happy we've been able to open part of Elma Turner Library again within just two months."
Chief Executive Pat Dougherty says library staff have shown remarkable resilience over this period and he thanks the public for their patience.
"We are grateful to Nelsonians for their support as we progress through this important work. Library staff have worked hard to provide services such as the Kiosk Collection Point at Civic House and increased hours of other branches, but I'm sure they will be very glad to be welcoming everyone back into Elma Turner Library."
-----
FAQs

What is a Detailed Seismic Assessment (DSA) Report and why did Council request one?
Broadly speaking, a DSA is a detailed, modelled, assessment of the likely seismic behaviour of a building. When doing a DSA, engineers will assess the vulnerability of all critical elements in the building (such as columns, floors, parapets, and heavy exterior cladding) that could present a significant life safety hazard during an earthquake. Each of the elements get a score expressed in terms of the percentage of New Building Standard (% NBS) achieved. % NBS is an index used to characterise the expected seismic response of a building to earthquake shaking. It helps identify buildings that represent a higher seismic risk than a similar new building, built to current Building Code standards (implemented following the Christchurch and Kaikōura earthquakes).
Council reviewed its buildings after receiving an Earthquake Prone Building notice for ceiling tiles in its main building – Civic House. The initial review of Elma Turner Library discovered that tiles were heavier than expected – weighing between 8kg and 11kg.
As a result of this review, Council temporarily closed the building and commissioned a limited-scope DSA of Elma Turner Library's ceiling grid, ceiling tiles and partitions to assess any risk they might pose during an earthquake. Narrowing the scope of the DSA allowed it to be completed on a faster timeline. Having accurate, externally reviewed data helps us make informed decisions, which is especially important when there is the potential of significant impact to the public.
Did Council really have to close the building? Couldn't the library have stayed open?
The closure was a precaution due to the heavy weight of the ceiling tiles while we learnt more about the risk and how it could be mitigated. While there was no legal obligation to close, Council was not prepared to accept the level of risk when it came to a high-traffic public facility with a number of vulnerable users. The DSA confirms this approach.
Can I read the report?
Yes, we have made the report available to the public online. You can find it HERE.
What work is being done to improve the seismic resilience of the library? How long will it take?
The work is being done in two stages. 
Stage One will cover the Children's area and the Activity Room to 67% NBS. Construction on these two areas began on Thursday 14 July and will continue over the weekend.
Stage Two will cover the remainder of the Library. At this stage we don't know how long it will take to complete this work. We are committed to doing this work and are assessing concept design options and price points for strengthening to several different targets of % NBS that will enable a decision to be made.
Why can't the tiles just be removed?

Unfortunately, it is not as straightforward as just removing the tiles. There are many factors to consider, and we have consulted experts for advice. One key problem is the heating system for the library is integrated into the tiles. The fire alarm system detectors are also mounted onto the ceiling tiles so removing them means we would be interfering with this important safety feature.
How much will it cost to complete short-term strengthening?
The cost for Stage One will be undertaken using the existing budget ($200,000) for strengthening work that was included in the 2021/2031 Long Term Plan. 
We don't yet know how much Stage Two, which encompasses the majority of the Library space, will cost. We are assessing concept design options and price points for strengthening to several different targets of % NBS and will be requesting additional money from Council.
After strengthening work is complete, will the building be reopened to the public? Will it be safe?
Yes, the building will reopen once strengthening work is complete to bring the building's % NBS rating above the 34% threshold. This will happen in two stages: 
Stage One will cover the Children's area, the Activity Room and some publicly available bathrooms to 67% NBS.
Stage Two will cover the remainder of the Library. At this stage we don't know how long it will take to complete this work.
Once the work is completed, the ceilings will no longer be considered earthquake-prone.
MBIE has this month issued
new guidance on seismically vulnerable buildings
advising that most seismically vulnerable buildings are not imminently dangerous and can remain occupied while seismic remediation work is planned, funded and undertaken. The building could be occupied in its current state, however we are opting to take a cautious approach by keeping Elma Turner Library closed while this work takes place. This also ensures the work can be completed in business hours and done quickly.
Why don't you just rent a building instead?
Since the library occupies a space of 2,403m2, it is difficult to find spaces of this size in central Nelson, at a reasonable rent, that is fit-for-purpose and meets an acceptable % NBS rating. We would also need to consider the cost of relocating the Library to a new space. Money that could be used to rent a space is instead being put toward long-term strengthening. Overall, we believe this work does represent a cost-effective solution.
Is this work worth it given that there are plans to build a new library? 
Under the current timeline, the new library is not expected to be operational till 2027 – still approximately five years away. We want to ensure that for those five years the Nelson public can feel safe and confident using the Elma Turner Library.
More FAQs specific to library services are available on the Nelson Public Libraries website.