The work of recovery continues – stabilisation of Moana Avenue and completion of geotechnical assessments
16/03/2023 3:49pm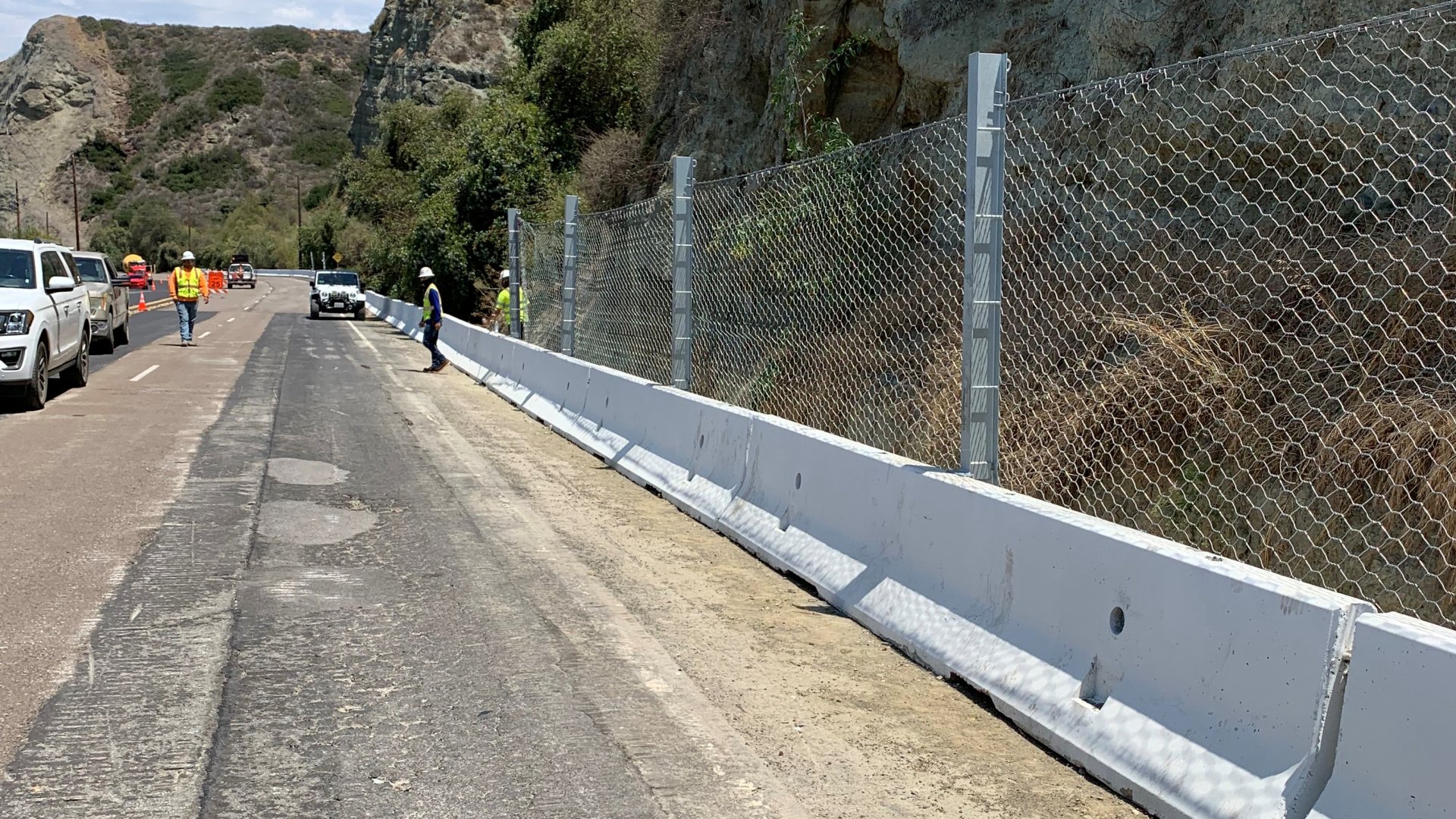 Work will start by the end of the month to enable Moana Avenue to return to two lanes of traffic, one of the remaining few roads in Nelson still impacted by the August 2022 weather event.
Nelson City Council's contractors will be installing a debris or 'catch' fence along the eastern side of Moana Avenue, from the driveway of 134 Moana Avenue, extending 70 metres towards the roundabout. The fence consists of steel posts, steel mesh and tensioned cables that will be anchored into the ground, designed to protect road users and houses from falling rocks, similar to that used along SH1 following the Kaikōura earthquake (example pictured above).
Nelson Mayor Nick Smith says geotechnical experts have been working closely with Council engineers to develop a plan to stabilise the area.
"We understand that this has been a challenging time for our community, and we empathise with those who have been affected by slips originating from Council-owned land.
"There are 13 locations with short-term remedial works either already underway or completed, and Moana Avenue is about to be added to that list."
To install the fencing safely and efficiently, Moana Avenue will be closed between Bisley Avenue and Princes Drive between 27 March 2023 and 12 May 2023. Residents within the closure will have access, but the road will be closed to all other users for the duration of the works.
In addition to the progress on Moana Avenue, Nelson City Council has now provided geotechnical assessments to all residents who had slips originating from Council land in the August 2022 severe weather event. This milestone marks a significant step forward in the recovery process for those affected by the event.
The severe weather event in August 2022 caused extensive damage and disruption across our community, and Mayor Nick acknowledges that the recovery process is ongoing and that many residents continue to face significant challenges.
"Council is committed to supporting those impacted by the event and providing them with the information they need to move forward," he says.
"We are pleased to provide geotechnical assessments to remaining affected residents, which will help them make informed decisions about next steps."
Council has established a dedicated team to manage the recovery process and ensure that affected residents receive the support they need. The Recovery team is working through each report to make a recommendation to the elected members' Storm Recovery Taskforce about possible remedial options. These options are expected to be presented to full Council during April 2023.
Following any decisions by Council on remedial works (should Council deem this to be the appropriate action), the work will occur in two stages.
Stage one – a detailed design package and consents (potentially both resource and building) may need to be secured, which is expected to take up to three months. Private insurers will be able to guide residents through this process as there may be multiple parties involved in remediation works.
Stage two – contractors will then be engaged to undertake the works and depending on the specialist nature of remediation, this may take several months. At the earliest it is anticipated that remedial work could start in August.
Council's Navigator service remains open to anyone affected by the weather event and operates from a hub beside Civic House weekdays between 9.30am and 5pm. This team has been working closely with residents to provide information, guidance, and assistance throughout the recovery process. The Navigator team will also visit people at home by arrangement.
"We encourage those who have been impacted to continue to reach out to us for assistance and guidance," Mayor Nick says.
"The provision of geotech reports is a significant milestone, but we recognise there is still much work to be done to fully recover from the event. Nelson City Council remains committed to working with our community to address the ongoing impacts of the severe weather event and support those who have been affected.