All Blacks given the Key to the City of Nelson
07/09/2018 4:48am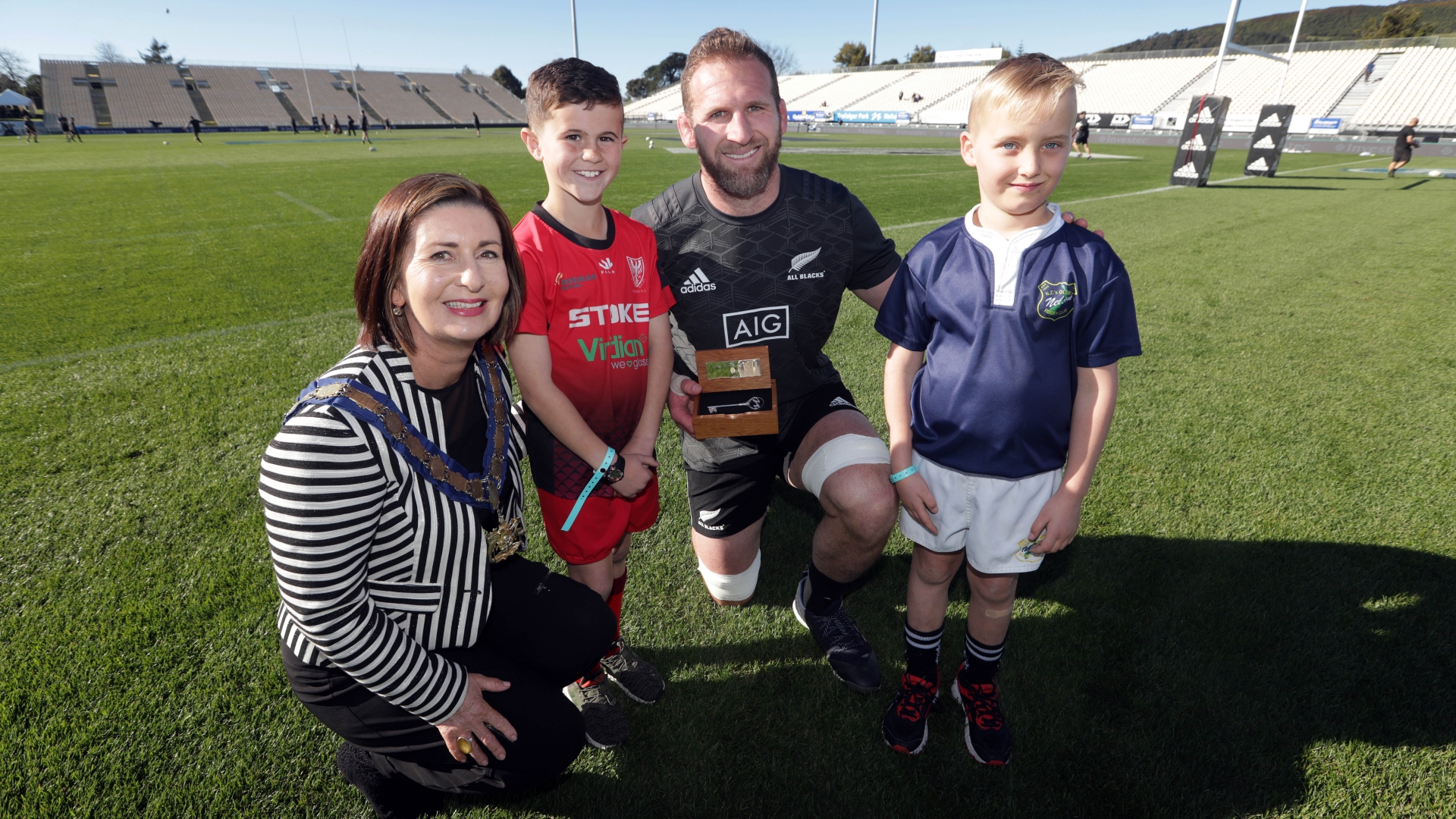 Mayor Rachel Reese presented the Key to the City of Nelson to All Blacks captain, Kieran Read on Friday at a special ceremony at 3pm, following the Captain's Run ahead of the All Blacks vs Argentina test match at Trafalgar Park in Nelson.
Mayor Reese says, "We are honoured to be hosting this historic first All Blacks test match here in Nelson-Whakatū, the birthplace of rugby in New Zealand. 
"The presentation of the Key is a symbol of esteem we hold the team in and a gesture of welcome from the people of Nelson.
"I know the tens of thousands of fans heading to Trafalgar Park tomorrow night will make that welcome very loud and clear but this is a way for our community to cement an enduring friendship between Whakatū and the All Blacks." 

The 'Key to the City of Nelson' is a ceremonial key made of sterling silver and is designed with the Nelson City Council emblem as the bow, and the shape of the Te Tau Ihu (Top of the South) as the bit.

The key was commissioned by the Nelson City Council as a 'special gift' for those who have achieved the highest honour on the world stage or within our community.  
The key is crafted by Benjamin Clark of Benjamin Black Goldsmiths who is a local master jeweller and designer. 

Mayor Reese says, "In 2015 I had the great honour on behalf of Nelsonians to present the Key to the City of Nelson to then Crusaders' Captain, Richie McCaw, when we hosted Super Rugby at Trafalgar Park.

"I remember saying to him – one day we want to welcome you back for an All Blacks test match.

"I think it's fair to say that New Zealand Rugby thought we were dreamers, but Nelson is home to people with passion and capability and we know how to make partnerships and relationships work.

"So today we present another Key to the City of Nelson to All Blacks Captain Kieran Read. Dreams really do come true in Te Tau Ihu!
"Let's hope the Key to the City of Nelson also proves to be a good luck charm and we can look forward to a thrilling game of rugby tomorrow night."