Nelson City Council makes Contact Tracing available at Alert Level 2
13/05/2020 5:19am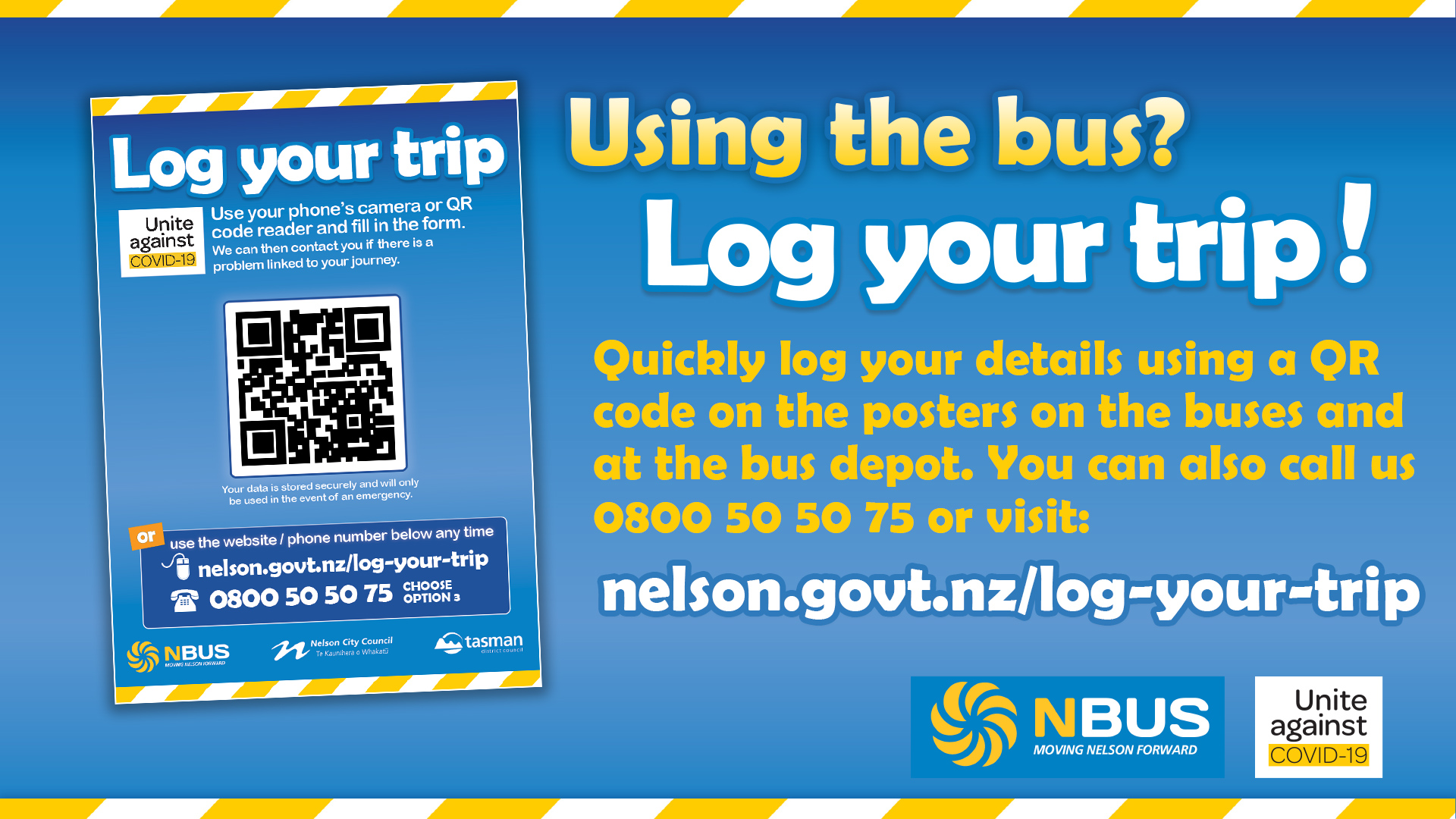 As we head into Alert Level 2, Nelson City Council is following national guidelines and implementing contact tracing on its buses and at Council facilities and swimming pools, to help keep the community safe in the event of a Covid-19 outbreak.
The data collected will be stored securely and kept until contact tracing is no longer required by the Ministry of Health. 
It will only be used if we need to trace people in the event of a linked positive coronavirus case. 
Buses
At Alert Level 2 bus passengers are asked to make a log of their trip. A QR code and further details will be displayed on posters at bus shelters and inside the bus.
If you are using the bus service at Level 2, you can either scan the code or go to nelson.govt.nz/log-your-trip and enter your details – including route number and the time you got on the bus.
Alternatively, you can call 0800 50 50 75 option 3 and register your ride with our Customer Service Centre.
Public transport will return to the normal timetable barring the weekend late late bus, which will not run until further notice. 
At this stage, services remain free of charge. Physical distancing will be in place, which will limit bus capacity so users are encouraged to travel off peak where possible or allow plenty of time for their journey.

Council Facilities

Contact tracing will be a condition of entry to Council facilities, including the Trafalgar Centre, Greenmeadows, Saxton Pavilion and  community halls. 
At the Customer Service Centre you will be asked for your contact details. There will be a maximum limit of five people inside the Centre at any one time.
The Elma Turner and Stoke Libraries will also require visitors to sign in at the front desk. Numbers coming into the libraries will be limited and space outside the library will be cordoned off to allow for physically distant queuing.
 
Pascoe Street Transfer Station

A contact tracing system is in place involving the manual recording of registration details. There are restrictions on the number of people allowed to be on site at one time to maintain physical distancing, so visitors may have to spend time waiting in their car before being allowed to enter.
 
Swimming Pools

Contact tracing will be a condition of entry to Council-owned swimming pools. If you have a membership at the pool, you can just swipe your membership tag as usual on entry.  If you are a casual customer who pays on entry, you'll be asked for your contact details and then given a swipe tag to use each time you pay to enter the pool. A maximum of 100 people will be allowed in the facility at any time so we ask you to be considerate and keep your time in the pool short.

Freedom Camping
A dedicated website has been set up to allow visitors to log their stay at a freedom camping site. Posters with a QR code and the relevant information will be placed at all freedom camping sites.