Taurapa Sculpture enhances culturally significant site
05/02/2019 11:52am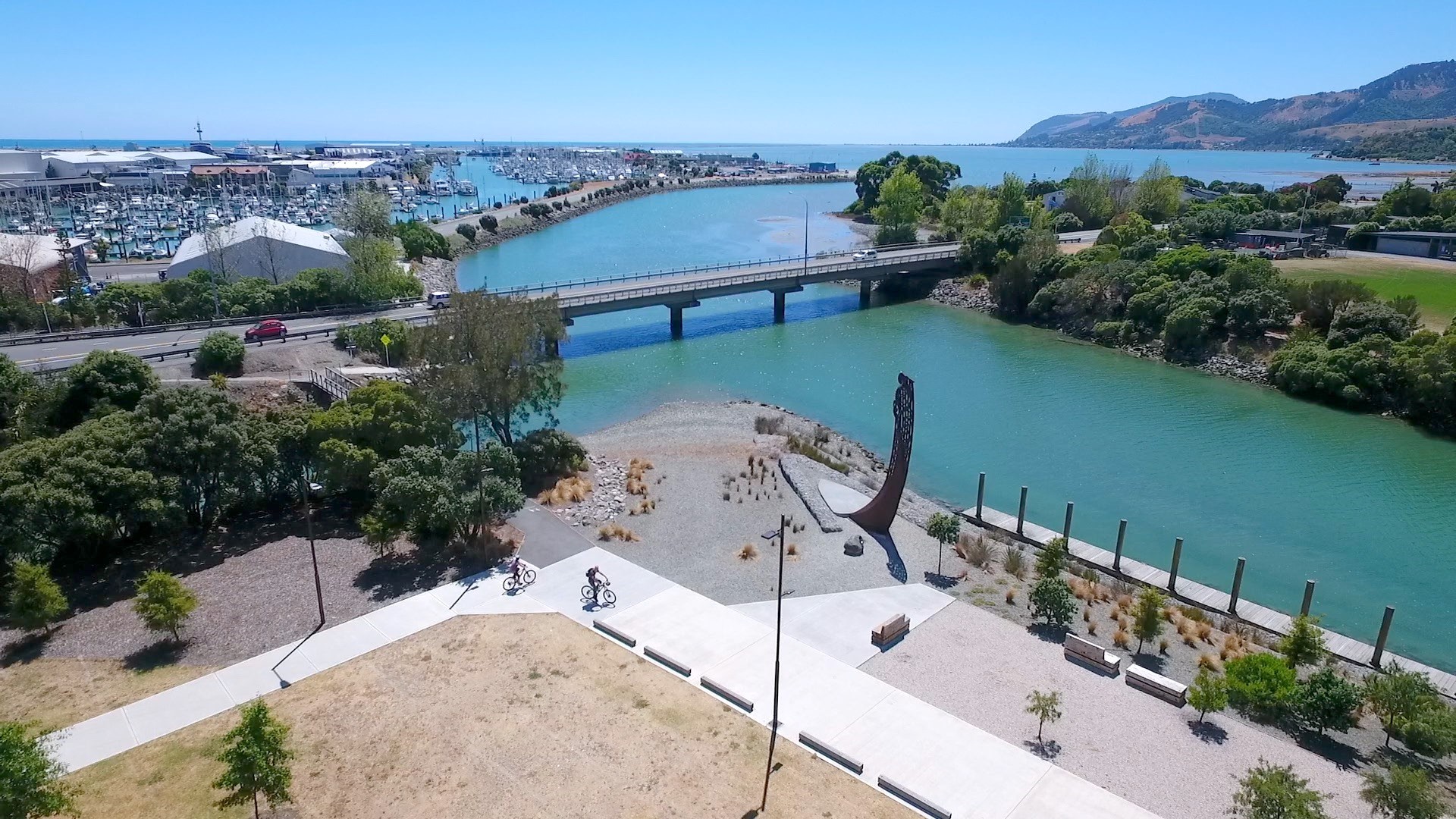 A dawn ceremony at the Waka Landing site on Saturday, 2 February saw the unveiling of the 'Taurapa' (waka sternpost), an impressive sculpture over 9 metres tall and 1.7 metres wide.
The artwork, commissioned by Council in 2016, is the culmination of years of work for talented local artist Maia Hegglun.
The weathering steel sculpture, now standing proud in Rutherford Park alongside the Maitai/Mahitahi walkway, illustrates Māori/Polynesian exploration of the South Pacific Ocean and the discovery of Aotearoa.
Mr Hegglun says "The brief was to represent the topic of migration as it relates to all peoples.  Its story reminds us that the only way we have a future is through kotahitanga (strength in unity).  The choice of medium complements the cultural significance of the site, the historic contribution and evolution of Māori settlement and growth in Whakatū.
"As the artist, my task was not only have an understanding of how these acknowledgements are a big deal, but to ensure delivery of the real deal.  I'm honoured that local iwi and Council had the confidence to entrust me with such an important and meaningful sculpture for the community."
Representatives from six mana whenua iwi showed their support of the taonga (artwork) through the laying of Mauri stones in November 2018 beneath the foundations of the sculpture. This customary ritual signifies the intrinsic relationship Māori have with the physical and spiritual realms as a source of protection for the environment and the community.  
An anchor stone of locally sourced Argillite accompanies the Taurapa, and further connects the sculpture to the land and river.
Chair of Ngāti Kuia, Waihaere Mason says "The Taurapa is part of our story on how Aotearoa came to be and also represents the courage of our tupuna (ancestors) who journeyed here in their waka from far off places and survived.  The Taurapa faces the incoming tide symbolising the future ahead that can be faced with confidence such is the strength of character given to us by our tupuna and again, that strength is epitomised within this magnificent taonga.
"The Taurapa is an integral part of a waka it connects the Tauihu (bow) to the Taurapa (stern) and has a balancing influence on the water.  Te Tauihu o te Waka a Maui identifies this region and connects the Māori creation story and our history in Aotearoa," says Mr Mason.
"New technologies have enabled this Taurapa to be made with contemporary materials, recognising Te Ao Hurihuri, the changing world.  And so, here we are celebrating the past and looking forward to the future, with pride."
The sculpture has been planned over a number of years, and involved many parties. At a total project cost of $185,000, including materials, transport and installation, this original artwork which has a significant presence on the Maitai/Mahitahi River and walkway, has been possible through the Council's arts fund.
Deputy Mayor Paul Matheson commended Mr Hegglun on his creativity and says "We can all be proud of this magnificent structure adorning our landscape. As a Councillor and Deputy Mayor, I'm pleased that we continue to set aside funds that provide opportunities to celebrate and explore our heritage, identity and creativity. It says a lot about who we are and how we feel about our cityscape."
Chair of the Community Services Committee, Gaile Noonan says "It was a privilege to attend the dawn blessing of the Taurapa. The Waka Landing site holds an important place in Whakatū's heritage and I'm thrilled that we now have such a striking sculpture that recognises the significance of the site for all to enjoy."